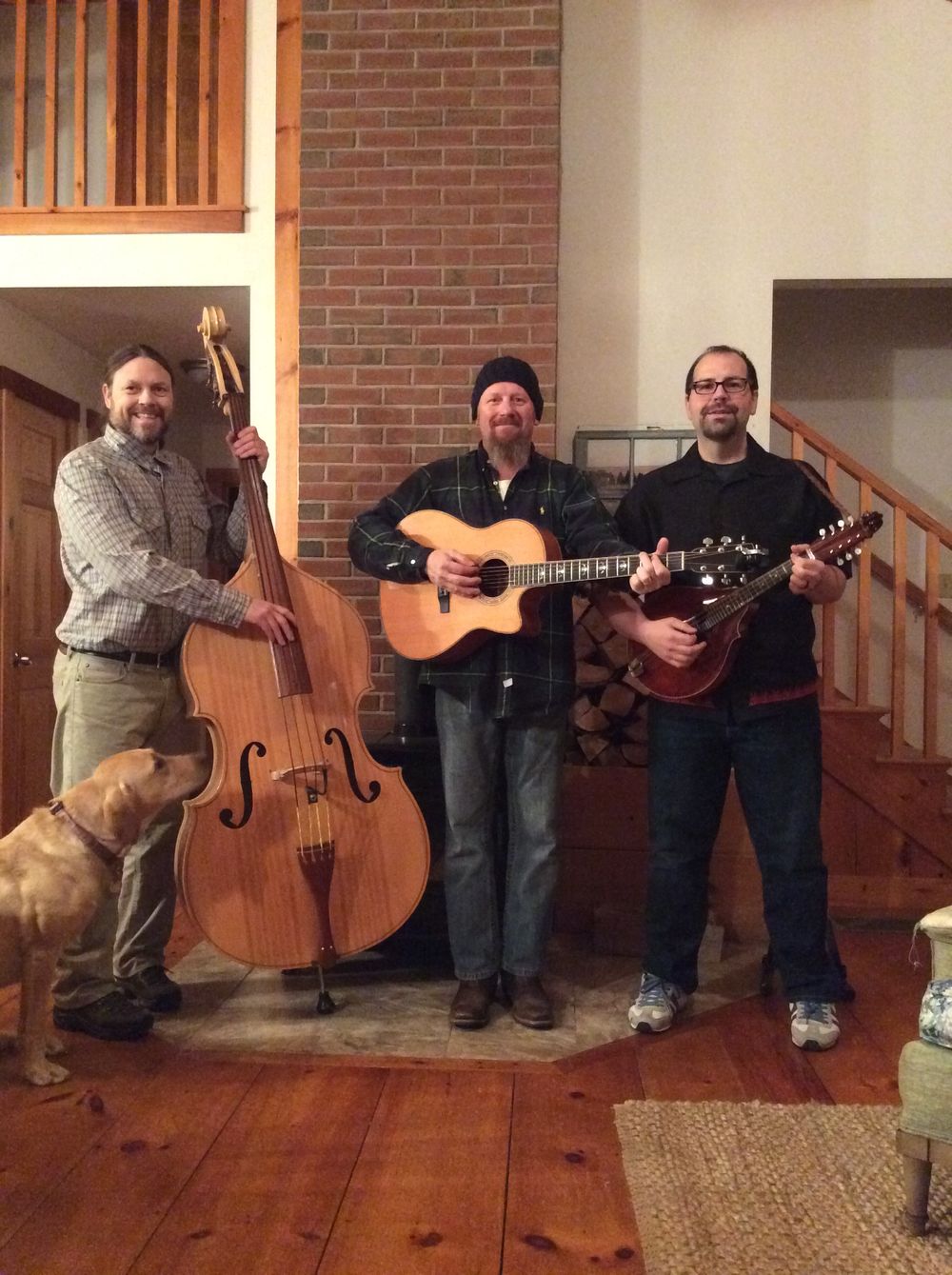 THE SUSTAINABILLIES 2015-2016
The Sustainabillies played a blend of several traditional Acoustic Americana styles including classic country, bluegrass, reggae, roots, rock and original music mainly in Hillsborough County, NH. Inspired by bands and musicians like "Old Crow Medicine Show, Hank Williams, Van Morrison, Dawg and Dead and the like.  We played traditional acoustic instruments like the acoustic guitar, banjo, mandolin and upright bass. When possible we kicked in some percussion with Congas and Bongos and a sprinkle of blocks and shakers. We played and sang a wide array of Americana music.  
We played our own unique style of music, which included giving popular contemporary songs a traditional acoustic sound.  Band members included; Ross Arnold, guitar, banjo, mandolin, bass, percussion, lead and harmony vocals, sometimes Phil Clarner who sang lead and harmony vocals, picked acoustic guitar, banjo and mandolin, Larry Houghton who plucked upright bass, played guitar, and mandolin and sang lead, and back up and harmony vocals, and Bob Prendergast on mandolin and acoustic guitar.
The Sustainabillies play private parties, barn dances, restaurants, bars, weddings, festivals, etc. around Southern NH and beyond.
Our most memorable gig for me was a private party in Bradford that was supposed to be the Tyler Road band. They could not play, so we borrowed Drew on Cajone and one of Ross's Friends Nick Pangaro, mando, guitar, vocals and harmonica, and my old band mate Cody Howe on guitar and vocals. The music was outstanding. We pulled together a couple of seriously rockin' sets. 
Sustainabillies
0:00/2:34

0:00/4:34

0:00/4:28

0:00/3:46

0:00/3:07

0:00/4:34

0:00/2:33

0:00/2:16

0:00/3:15

0:00/4:23

0:00/3:06
Sustainabillies song list
WAGON WHEEL                              A        Ross 
TUPELO HONEY                             A        Ross 
CROSS ROADS                               A        Ross 
ONE WAY OUT                                A        Ross 
CANT GET WHAT YOU WANT        A        Ross 
FEELIN ALRIGHT                            A        Ross 
LONESOME ROAD BLUES             A        Larry 
LITTLE WHITE ENVELOPE             A        Larry 
WHAT ABOUT ME                           A        Larry 
I FOUGHT THE LAW                       A        Larry 
KRYPTONITE                                  Am     Ross 
HADN'T BEEN FOR LOVE               Am     Ross 
ROUGH AND READY                       Am     Ross 
DEVILS CUT                                    Am     Ross 
RAMBLIN MAN                                Am     Ross 
ALL ALONG THE WATCH TOW      Am     Ross 
BREAKDOWN                                  Am     Larry 
SIMPLE MAN                                   C       Ross 
DOLLAR BILL BLUES                      Cm    Ross 
JAMBALAYA                                    D       Ross 
CAN'T YOU SEE                              D       Ross 
CRAWDAD                                       D       Larry 
WORRIED MAN BLUES                   D       Larry 
UPON THE BLUERIDGE                  D       Larry 
DON'T LET YOUR DEAL GO           D       Larry 
I KNOW YOU RIDER                       D       Larry 
NEW RIVER TRAIN                         D       Larry 
FALL ON MY KNEES                       D       Larry 
CHEW                                              D       Larry 
PRIDE AND JOY                              E        Ross 
FOLSOM PRISON                            E        Ross 
BEFORE YOU CUSE ME                 E        Ross 
ANGEL FROM MONTGOMERY      E        Larry 
HEY JOE                                          E        Larry 
MAN OF CONS SORROW               G       Ross 
ANGEL BAND                                  G       Ross 
BUTTERCUP                                   G       Ross 
IN THE PINES                                  G       Ross 
I SAW THE LIGHT                           G       Ross 
KNOCKIN N HEAVS DOOR             G       Ross 
FRIEND OF THE DEVIL                   G       Larry 
YOU AINT GOING NOWHERE        G       Larry 
SQUEEZE BOX                                G       Larry 
I AINT GOT NO HOME                    G       Larry 
PIG IN A PEN                                   G       Larry 
BUFFALO GALS                              G       Larry 
OLD SHOES                                    G       Larry 
LONG BLACK VEIL                          G       Larry 
MONKEY AND THE ENGINEER      G       Larry 
AINT NO GOODWAY                       G       Larry
AINT NO GOODWAY 
GGGG CCGG 
GGGG CCGG 
GGGG CCGG 
GGGG DDGG 
ALL ALONG THE WATCH TOWER 
AmAmGFFG 
ANGEL BAND ¾ TIME 
GGCG GDGG 
GGCG GDGG 
DDGG DDGG 
CCGG GDGG 
CCGG GDGG 
ANGEL FROM MONTGOMERY 
VERSE: 
EEAA EEAA EEAA DDEE 
EEAA EEAA EEAA DDEE 
CHORUS: 
EEDD AAEE EEDD AAEE 
EEDD AAEE EEDD AAEE 
BEFORE YOU ACCUSE ME 
EEEE AAAA EEEE EEEE 
AAAA AAAA EEEE EEEE 
BBBB AAAA EEEE EEEE 
BREAKDOWN 
VERSE X2: 
AmGAmG AmGAmG 
AmGAmG AmGAmG 
AmGAmG AmGAmG 
AmGAmG Fmaj7Fmaj7Fmaj7Fmaj7 
CHORUS: 
AmGFG AmGFG AmGFG 
AmG Fmaj7Fmaj7Fmaj7Fmaj7 Fmaj7Fmaj7Fmaj7Fmaj7 
BREAK: AmG over and over 
BUFFALO GALS 
AAAA EEAA AAAA EEAA 
BUTTERCUP 
VERSE: 
GGCC GGEE GGCC GGDD 
GGCC GGEE GGCC GGDD 
GGCC GGEE GGCC GGDD 
CHORUS: 
CC STOP ON D 
CANT ALWAYS GET WHAT YOU WANT 
AAAA DDDD 
CAN'T YOU SEE 
DDDD CCCC GGGG DDDD 
CHEW 
DDFF DDCC 
AmAmCC DDDD 
AmAmCC DDDD 
CRAWDAD 
DDDD DDDD DDDD AAAA 
DDD7D7 G7G7G7G7 DDAA DDDD 
CROSSROADS 
AAAA AAAA AAAA AAAA 
DDDD DDDD AAAA AAAA 
EEEE DDDD AAAA AAAA 
DEVILS CUT 
VERSE: 
AmAmAmAm AmAmAmAm 
AmAmAmAm AmAmAmAm 
AmAmAmAm EGAmAm 
CHORUS: 
DmDmDmDmF#F#F#F#  DmDmDmDmF#F#AmAm  EEEE EEEG 
DOLLAR BILL BLUES 
CmCmCmCm FmFmFmFm 
CmCmCmCm GmGmGmGm 
DON'T LET YOUR DEAL GO DOWN 
DDCC AADD DDCC AAAA 
DDCC AADD AAAA DDDD 
FALL ON MY KNEES 
DDBmBm DDBmBm DDAA 
DDBmBm DDAA DDDD 
FEELIN ALRIGHT 
AAAA DDDD 
FRIENDS 
VERSE: GGGG GGGG CCCC GGGG DDCC GGGG DDCC GGGG X 4 
BRIDGE: CCGG CCGG AAAA AAAA CCCC DDDD – BACK TO VERSE 
FRIEND OF THE DEVIL 
VERSE: GGGG CCCC GGGG CCCC 
CHORUS: DDDD AmAmAmAm DDDD AmAmCC DDDD DDDD 
BRIDGE: 
DDDD DDDD AmAmCC DDDD DDDD DDDD AmAmCC DDDD DDDD 
FOLSOM PRISON BLUES 
EEEE EEEE 
EEEE  E7E7E7E7 
A7A7A7A7A7A7A7A7 
EEEE EEEE 
B7B7B7B7 A7A7A7A7 
EEEE EEEE 
I SAW THE LIGHT 
GGGG GGGG CCCC CCGG 
GGGG GGGG GGGG DDGG GG 
IVE BEEN ALL AROUND THIS WORLD 
DDDD DDDD AAAA GGDD GGGG DDBmBm DADD 
HEY JOE 
CCGG DDAA EEEE EEEE 
I AINT GOT NO HOME 
GGGG CCGG GGGG AADD 
GGGG CCGG GGGG DDGG 
IF IT HADN'T BEEN FOR LOVE 
AmAmAmAm AmAmAmAm 
AmAmAmAm FFFF 
AmAmAmAm 
FFFF FFEE AmAmAmAm 
CCGG 
DmDmCC 
CCGG 
DmDmAmAm AmAm 
CCGG 
DmDmCC 
CCGG 
DmDm AmAm AmAm 
I FOUGHT THE LAW 
BREAK: ADEA EDEA 
VERSE: AADA AADA AAEA 
BRIDGE: DDDD AAAA DDDD AADA AADA AAEA 
THE PINES ¾ TIME 
GGCG 
GDGG 
GGCG 
GDGG 
JAMBALAYA 
DDDD AAAA AAAA DDDD 
I KNOW YOU RIDER 
DDDD CCGG DDDD DDDD 
DDDD CCGG DDDD DDDD 
FFCC FFCG DDDD DDDD 
KNOCKIN ON HEAVENS DOOR 
GGDD AmAmAmAm GGDD CCCC 
KRYPTONITE 
AmAmFF GGAmAm 
LITTLE WHITE ENVELOPE 
VERSE: 
AAAA DDDD 
AAAA DDDD 
AAAA DDDD 
AAEE AAAA 
CHORUS: 
DDDD 
DDAA 
DDDD 
AAEE AAAA 
LONG BLACK VEIL 
VERSE: 
GGGG GGGG DDDD CCGG 
GGGG GGGG DDDD CCGG 
CHORUS: 
CCGG CCGG GG CCGG CCGG GG 
GGGG CCGG CCDD GGGG 
LONESOME ROAD BLUES 
AAAA AAAA DDDD AAAA 
DDDD AAF#mF#m AAEE AAAA 
MAN OF CONSTANT SORROW 
GGGG GGGG CCCC DDDD GGGG 
GGGG GGGG CCCC DDDD GGGG DDDD GGGG 
MONKEY AND THE ENGINEER 
GGCG GGAD GGCG GADG 
NEW RIVER TRAIN 
DDDD DDDD DDDD AAAA   DDDD GGGG AAAA DDDD 
DDDD DDDD DDDD AAAA   DDDD GGGG AAAA DDDD 
OLD SHOES – ¾ TIME 
VERSE:    GGCG GGDD GCGC GDGG 
CHORUS: GCGC GGDD GCGC GDGG 
ONE WAY OUT 
AAAA AAAA AAAA AAAA 
DDDD DDDD AAAA AAAA 
EEEE DDDD AAAA AAAA 
PIG IN A PEN 
AAAA AADD AAAA EEAA or in G – GGGG GGCC GGGG DDGG 
PRIDE AND JOY 
EEEE EEEE EEEE EEEE 
AAAA AAAA EEEE EEEE 
BBBB AAAA EEEE EEEE 
RAMBLIN MAN 
AmAmAmAm AmAmAmAm 
EEEE EEAmAm 
ROLLING IN MY SWEET BABIES ARMS 
GGGG GGGG GGGG DDDD 
GGGG CCCC GGDD GGGG 
ROUGH AND READY 
VERSE: 
AmAmAmAm AmAmAmAm EEEE EEAmAm AmAmAmAm 
BREAK: 
AmAmAmAm AmAmAmAm AmAmAmAm AmAmAmAm 
EEEE EEEE AmAmAmAm (then Ross Holds AmAmAmAm) 
SIMPLE MAN 
CGAmAm 
SQUEEZE BOX 
GGGG GGGG 
DDDD CCCC 
DDCC GGGG 
THEY CALL ME THE BREEZE 
AAAA AAAA AAAA AAAA 
DDDD DDDD AAAA AAAA 
EEEE DDDD AAAA AAAA 
TUPELO HONEY 
AAC#mC#m DDAA AAC#mC#m DDEE on the instrumental hold the E 
UPON THE BLUERIDGE MOUNTAINS 
DDDD DDDD AAAA GGDD GGGG DDBmBm DADD 
WAGON WHEEL 
AAEE F#mF#mDD AAEE DDDD 
WORRIED MAN BLUES 
DDDD DDDD GGGG GGDD 
DDDD DDDD AAAA DDDD 
YOU AIN'T GOING NOWHERE 
GGAmAm CCGG