paul clark and the lonesome drifters 2004-2005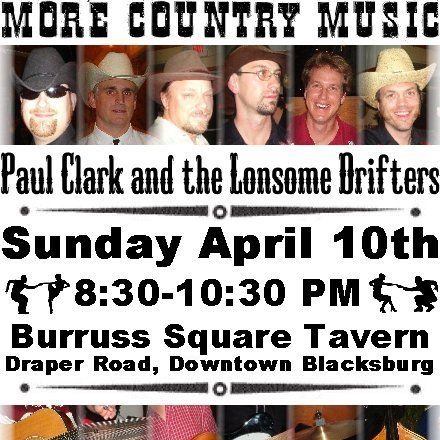 Paul Clark and The Lonesome Drifters
Honky Tonk
Paul Clark and the Lonesome drifters were a Honky Tonk band that I played with for 2 years. Paul was an amazing front man with an incredible voice for this type of music. We played every other Thursday at the cellar in Blacksburg, VA. Paul played acoustic guitar and sang, Bob Chew played steel guitar and sang amazing high lonesome harmonies, Bill Richardson was on fiddle and vocals, Ken Convery on drums, Larry Houghton on upright bass, and Casey on Electric guitar and mandolin. This was one of the most fun bands that I have ever had the opportunity to play with. We had a faithful group of folks who came out and danced every other week. So much fun! Who knew country music could actually be fun:>)
I found this old write up in the Roanoke times: 
"Blacksburg honky tonk turns 1 year old today, or rather the particular incarnation that is Paul Clark and the Lonesome Drifters does. One of the off-shoots of the extremely popular F-150, the Lonesome Drifters are staying away from their old setlist and still packing the house. And perhaps more importantly, they are still donning the snappy shirts and cowboy hats that Clark long ago claimed as his look. Plus ... " Your Top 10, a list of the most popular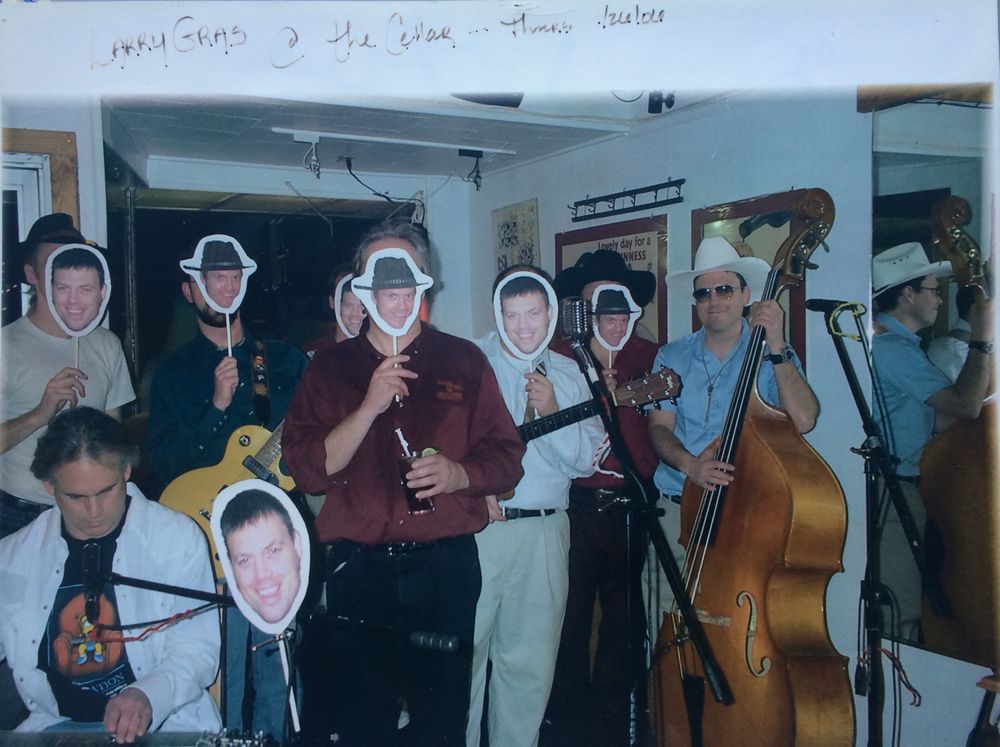 Paul Clark and the Lonesome drifters
Demo CD
Paul Clark and the Lonesome Drifters
0:00/2:21

0:00/3:10

0:00/3:07

0:00/3:41
Random recordings at practice
Paul Clark and the Lonesome Drifters
These are just a bunch of recordings from practices. Some of these songs are recordings of the first time we ever attempted to play the song. They are pretty rough recordings, but still great in many ways.
Read more…
0:00/4:41

0:00/3:08

0:00/3:34

0:00/2:51

0:00/3:51

0:00/3:14

0:00/3:22

0:00/2:41

0:00/4:12

0:00/3:47

0:00/3:23

0:00/5:48

0:00/3:47

0:00/2:14

0:00/3:28

0:00/3:05

0:00/4:20

0:00/3:47

0:00/3:09

0:00/3:08
Archive: 
Steppin' Out 
By Hart Fowler 
THE ROANOKE TIMES 
981-3349 
  
Aug 2, 2005 
  
True Sound 
Its been 25 years since Blacksburg began closing off the downtown and inviting folks to step out into the streets to hear the sounds of live music and taste the local cuisine. Coupled with its usual lineup of traveling bands, this year's Steppin Out is showcasing six local acts that have dominated the New River Valley music scene for nearly two decades. 
"Part of what I try to do, and would like to do, is to equally present international talent and regional or local talent," said music coordinator Dylan Locke. "Steppin' Out offers a unique platform for some of these local performers to tap into a group of people who may not otherwise get to see them. Once they get that chance, hopefully a connection is made." 
Two of these local bands are headlining each day. True Sound, the newest addition, will close the festivities Friday and the Yams from Outer Space, the longest running Steppin Out act, closes the event Saturday. 
Eat Middle Eastern fare at the new Kabob House 
Hangout at the She-Sha Cafe and Hookah Lounge 
Read about the violent act that ended one festival and helped give birth to Steppin' Out. 
The info 
When: 10 a.m. to 10 p.m. Friday and Saturday 
Where: On College Avenue, Draper Road, Jackson Street and Main Street in downtown Blacksburg 
Features: Continuous live music on several stages, more than 150 craft vendors and festival food. Children's activities (including inflatable fun) on Henderson Lawn on Saturday. 
Admission: Free. Downtown parking and bus service on Blacksburg Transit is also free of charge. 
Call: 951-0454 
Net: dlpconcerts.com 
FRIDAY 
Paul Clark and the Lonesome Drifters 
Paul Clark is playing his fifth Steppin' Out, and he brings his company of cowboy hats and classic country sounds to the main stage for a boot-scootin' rockabilly ball. 
When: 5 p.m. Friday 
Who: Paul Clark (rhythm guitar and lead vocals), Bob Shew (steel guitar and vocals), Bill Richardson (fiddle and vocals), Larry Houghton (upright bass), Ken Convery (drums), and Casey Elder (lead guitar and mandolin). 
Style: "We sound like the country music of the early '50s -- Hank Williams, Johnny Cash, Bob Wills -- and we also play some traditional old-time fiddle tunes, and some western swing," Clark said. "We're really at heart a honky tonk dance band. Two step, flat-footing , swing dance; we get a lot of dancers." 
On Steppin' Out: "I think its a special gig. People can came out and see us who normally can't because we usually play late at night and in bars," Clark said. "This is a family environment and we like playing it for that reason." 
Play it again: Drift over to the Cellar to catch Clark and his boys twang it out all night, beginning at 9:30 Friday night.
PAUL CLARK AND THE LONESOME DRIFTER song list  
A BOY NAMED SUE 
A SATISFIED MIND 
ACT NATURALLY 
ASHES OF LOVE 
BATTLE OF NEW ORLEANS 
BIG CITY 
BIG RIVER 
BUMMING AROUND 
CALIFORNIA BLUES 
CORINNA, CORINNA 
COTTON EYED JOE 
COTTON FIELDS 
DIGGY-LIGGY-LO 
DIXIE 
DO WHAT YOU DO DO 
DON'T LET YOUR DEAL GO DOWN 
FAMILY TRADITION 
FOLSOM PRISON BLUES 
HALF AS MUCH 
HONKY-TONK MAN 
HONKY TONK BLUES 
I DON'T THINK HANK DONE IT THIS WAY 
I NEED YOU 
I SAW THE LIGHT 
I'LL GO DOWN SWINGIN' 
I'M SO LONESOME I COULD CRY 
I'M TIRED OF IT ALL 
ICO, ICO 
IF YOU GOT THE MONEY 
IN THE PINES 
JACK DANIELS IF YOU 
JAMBALAYA ON THE BAYOU 
JOLE BLON 
JUST ONE MORE 
KAW-LIGA 
LITTLE SISTER 
LONESOME, ONRY & MEAN 
LOVE'S GONNA LIVE HERE 
MOANIN' THE BLUES 
MY BUCKET'S GOT A HOLE 
OKIE FROM MUSKOGEE 
OLD JOE CLARK 
ONLY SHOULDER A TRUCK 
PAL OF MINE 
PRIDE 
RAMBLIN' MAN 
SALLY GOODIN' 
SLOWLY 
SUGARFOOT RAG 
SWEET DREAMS 
TAKE ME BACK TO TULSA 
TENESSEE WALTZ 
THERE'S A TEAR IN MY BEER 
TONIGHT THE BOTTLE 
UNDER THE INFLUENCE OF LOVE 
WAYMORE'S BLUES 
WHISKEY BENT & HELL 
WILL THE CIRCLE BE UNBROKEN 
WINDOW SHOPPING 
WISHFUL THINKIN' 
Y'ALL COME 
YOU DONE ME WRONG 
YOU NEVER EVEN CALL ME BY MY NAME 
YOUR CHEATIN' HEART 
YOUR TENDER LOVING CARE